Senior Consultant mit Schwerpunkt digitale Prozesstransformation (m/w) in Dresden
Dresden

Please apply here on "ITsax.de" with the "Apply Now" link/button at the top right.

Als Senior Consultant mit Schwerpunkt digitale Prozesstransformation (m/w) bist Du in einem spannenden Umfeld tätig und unterstützt unsere Kunden (nationale und internationale Fertigungsunternehmen) bei der digitalen Integration ihrer Geschäftspartner mit dem Ziel, manuelle Arbeitsschritte innerhalb der unternehmensübergreifenden Kooperation deutlich zu reduzieren und darüber hinaus die gewaltigen Vorteile dezentraler Zusammenarbeit einfach nutzbar zu machen.



Deine Aufgaben:
Analyse von Geschäftsprozessen, Leitung von Transformationsinitiativen sowie strategische und operative Beratung von Kunden bei der Optimierung ihrer Supply Chain und Service-Prozesse
Beratung zum gewinnbringenden Einsatz unserer Smart Process Lösungen in das Geschäftsumfeld unserer Kunden
Projektverantwortung für reibungslose und planmäßige Durchführung von Transformationsvorhaben
Kompetenter und lösungsorientierter Ansprechpartner auf Ebene von Fach- und Führungskräften für Teammitglieder und Kunden
Unterstützung unserer Partner bei der Einarbeitung in unser Produkt sowie Hilfestellung bei erfolgreicher Projektumsetzung

Was wir von dir fachlich erwarten:
Studienabschluss im Bereich der BWL/VWL, Wirtschaftsinformatik oder vergleichbare Ausbildung
mehrjährige Berufserfahrung
Know-how für die Integration innovativer Technologien in Unternehmensprozesse, Verständnis für Blockchain-Technologie
Sehr gute Kenntnisse im Projektmanagement (agile Vorgehensweisen wünschenswert)
Großes Interesse und Leidenschaft bei der Suche nach Lösungen, Geschäftsideen, Trends und Innovationen
Überdurchschnittliche Kommunikationsfähigkeit und Kundenorientierung sowie ausgeprägte Service-Orientierung
Verantwortungsbereitschaft, Eigeninitiative und Zuverlässigkeit
Sehr gute Deutsch- und Englischkenntnisse in Wort und Schrift

Was wir von dir menschlich erwarten:
Selbständiges und verantwortungsvolles Lösen von Aufgabenstellungen
Ausgeprägte Ergebnis- und Kundenorientierung
Fähigkeit, sich flexibel auf unterschiedliche Situationen einzustellen
Moderationsfähigkeit und sicheres Auftreten
Qualität und Eleganz sind wichtige Maßstäbe Deiner Arbeit
Reisebereitschaft für Projekteinsätze bei unseren Kunden
Brief profile of B-S-S Business Software Solutions GmbH
Wir sind ein IT-Dienstleister mit Sitz in Eisenach und Dresden, die smarte Lösungen für unternehmensinterne und unternehmensübergreifende Kommunikation und Zusammenarbeit schafft.
Zu unseren Kunden zählen zahlreiche international renommierte Konzerne, sowie große Deutsche und Europäische Unternehmen. Dadurch profitieren unsere Mitarbeiter von kurzen Wegen und schnellen Entscheidungen kleiner Unternehmen und anspruchsvollen Projekten im Großkundenbereich.
Möchtest Du deine individuellen Kenntnisse und Fähigkeiten in einem innovativen und expandierenden Unternehmen einsetzen? Wir bieten Dir die Chance dazu! Bewirb Dich jetzt bei uns!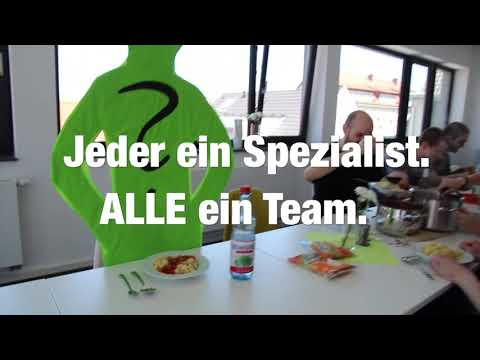 Publication date: 15-06-2018