Software Architekt Vorentwicklung (m/w/g) in Dresden
Dresden

Please apply here on "ITsax.de" with the "Apply Now" link/button at the top right.

Für unseren Standort Dresden suchen wir Dich zur Verstärkung unseres Teams als
Software Architekt Vorentwicklung (m/w/g)
(English version below)
Du möchstest Teil des Teams sein, welches die Zukunft der Firma (oder gar der gesamten Industrie) gestaltet? Du brennst für neue Technologien und proof-of-concept Designs im bereich der SW-Architektur? Du arbeitest gern in einem komplexen Umfeld, in welchem verschiedene Kundenanforderungen parallel und in entpsrechender Zeit und Qualität erfüllt werden müssen? Dann bist Du bei uns genau richtig.
Deine Aufgaben
Design und Entwicklung einer Top-Level-Architektur einer Automotive computing platform
Koordination und Definition von Komponenten, ihren Schnittstellen und Interaktionen
Moderation von SW-Architektur-Workshops und Reviews
Entwicklung von proof-of-concept Architekturen im Rahmen zukünftiger Projekte und neuer Technologien
Verantwortlichkeit für Konzepte im Rahmen funktionaler und technischer Sicherheit
Unterstützung der SW-Integrationsarbeiten
Deine Qualifikationen
Hochschulabschluss einer beliebigen technischen Ausrichtung
Sehr gute Erfahrungen mit komplexen Software Architekturen inkl. Branching Strategien, Platform Denken, Personalisierung und Varianten Management
Erfahrung im Bereich SW-Entwicklung Sicherheitskritischer Systeme im Automotive Bereich
Tiefgreifendes Verständnis von SW-Architektur im Embedded Bereich
Praktische Erfahrungen im Bereich funktionaler Sicherheit (ISO 26262)
Erfahrungen mit den Methoden und Tools von SW-Architektur und Anforderungsmanagement (z.B. Enterprise Architect, Doors)
Leidenschaft für Modularisierte SW-Architekturen, effizientes und effektives branching von komplexen SW-Projekten
Sehr gute Englisch- und Deutschkenntnisse
"can do" Mentalität
Nice to have:

Vorzugsweise Erfahrungen als SW-Entwickler (C/C++) im Bereich von Echtzeitkritischen Embedded Applikationen oder aus vergleichbaren Bereichen
Erfahrungen mit AUTOSAR sind ein Plus
Wir bieten Dir
Die Möglichkeit, ein Kompetenzzentrum für Infotainment mitzugestalten
Fachliche Entwicklungsperspektiven
Unbefristeter Arbeitsvertrag
Flexible Arbeitszeiten und 30 Tage Erholungsurlaub
Engagierte Kollegen in kleinen Teams
Firmenevents (u.a. Sommerfest mit Familie) und Teamevents
Zuschüsse zum Jobticket, Mittagsversorgung (im eigenen Mitarbeiterrestaurant) sowie Fitnesscenter
Deine Bewerbung
Nutze Deine Chance bei Preh Car Connect und bewirb Dich mit vollständigen Unterlagen und unter Angabe des JobCodes, Deiner Gehaltsvorstellung und des möglichen Eintrittstermins über unser Bewerberportal.
JobCode: 103/18
Software Architect Pre-Development
Do you enjoy to be part of a team that paves the future way of a company (if not a whole industry)? Are you passionate about new Technologies and proof-of-concept designs in SW-architechture? Are you working in complex environments where multiple customers need to be served parallel in time and quality? If yes, apply now!
Your tasks
Definition and development of a top-level architecture for a automotive computing platform
Co-ordination and specification of the interfaces of the components and their interaction
Moderating software architecture workshops and architecture reviews
Develop proof-of-concept architecture for future technologies and projects
Responsible for functional and technical Safety Concept
Supporting the software integration activities
Your skills
University degree in the area of electrical engineering, electronics, information technology, technical informatics, telecommunications, automation engineering or comparable qualification
Professional experience in complex software architectures including branching strategies, platform thinking, customization and variant handling
Several years of professional experience in software development of safety-critical systems in the Automotive industry
Deep understanding of software architecture for embedded systems
Practical experience in the field of functional safety (ISO 26262)
Experience in the methodology and the most used tools in the field of architecture and requirements management (e.g.Enterprise Architect, Doors)
Very good English or German language skills (written and spoken)
Ability to communicate effectively and work in a team
You are passionate about modularized architectures and interested in efficient and effective branching of customer projects.
You have a deep understanding and experience of the current architecture and of the principles of modularity and reusability
"can do" attitude
Nice to have:

preferably some working experience as a software developer in C and/or C++ for real time embedded applications or comparable Software Development experience in embedded systems
Experience in AUTOSAR, specifically with the RTE and the commonly used tools are a plus
JobCode: 103/18
Deine Perspektive
Du bringst Dein Fachwissen gern praktisch ein? Dann bist Du bei Preh genau richtig. Wir bieten Dir spannende Herausforderungen rund um unsere innovativen technischen Produkte, eine leistungsgerechte Vergütung sowie attraktive Sozialleistungen und individuelle Weiterbildungsmöglichkeiten.

Bei uns stimmt nicht nur die Technik – wir bieten Dir auch ein kollegiales Betriebsklima in einem internationalen Umfeld – beste Karriereaussichten inklusive.
Dein Ansprechpartner
Annett Wengrzik, Tel. 0351/ 453 55 - 5575
 
Preh Car Connect GmbH
Gewerbepark Merbitz 5
D-01156 Dresden
Brief profile of Preh Car Connect GmbH
Als internationaler Automobilzulieferer für Car Infotainment steht Preh Car Connect für Innovation, Individualität und Qualität. Der Erfolg unseres Unternehmens beruht auf dem außerordentlichen Ideenreichtum unserer Ingenieure, dem gemeinsamen Know-how eines standortübergreifenden globalen Teams und der Leidenschaft, tagtäglich dafür zu sorgen, dass aus Trends und Ideen innovative Produkte entstehen. Als erfolgreiche mittelständische Arbeitgebermarke bieten wir attraktive Einstiegsmöglichkeiten an unseren verschiedenen internationalen Standorten auf jedem Level.
Überzeugen Sie sich selbst und finden Sie bei uns den passenden Job. Sie bringen Ihr Fachwissen gern praktisch ein? Dann sind Sie bei Preh Car Connect genau richtig. Wir bieten Ihnen spannende Herausforderungen rund um unsere innovativen technischen Produkte, eine leistungsgerechte Vergütung und individuelle Weiterbildungsmöglichkeiten. Bei uns stimmt nicht nur die Technik – wir bieten Ihnen auch ein familiäres Klima in einem internationalen Umfeld – beste Karriereaussichten inklusive.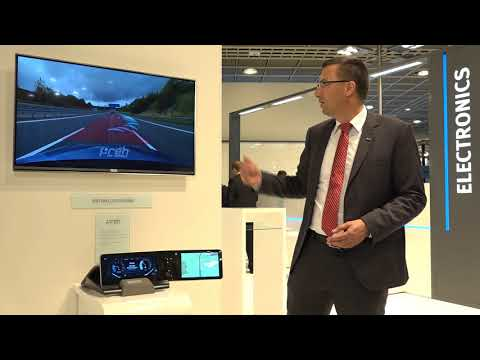 Publication date: 16-10-2018