IT Administrator (m/w/div) in Dresden
Dresden

Please apply here on "ITsax.de" with the "Apply Now" link/button at the top right.

Standort Dresden
IT Administrator (m/w/div)
Was dich erwartet
Konstruktive und wertschöpfende Mitarbeit im Team IT-Infrastruktur mit Verantwortung für die wesentliche Komponenten der IT-Systemlandschaft im Linux- und Windows-Umfeld
Administration und Weiterentwicklung der IT Infrastruktur (Netzwerke, Virtualisierung, Server- und Arbeitsplatzsysteme)
Administration von Linux-Systemen und OpenStack-Cloud im DevOps-Umfeld
Installation, Administration und Optimierung von Enterprise-Betriebssystemen (SLES, Oracle Linux)
Enge Zusammenarbeit mit dem Entwicklungsteam und verschiedenen Fachbereichen bei Umsetzung neuer IT Anforderungen
Systemüberwachung und Fehleranalyse inkl. Dokumentation, Evaluierung und Realisierung von Lösungsmöglichkeiten
Was du mitbringen sollten
Abgeschlossene Ausbildung zum Fachinformatiker oder eine vergleichbare technische Ausbildung
Mehrjährige Berufserfahrung in Systemadministration sowie Betrieb von Windows- und Linux-Systemen, Serverhardware, Storage, Virtualisierung und Netzwerk
Kenntnisse von Verfahren für automatisierte System-Konfiguration (Ansible etc.)
Kenntnisse der Plattformen Hyper-V, OpenStack, Docker von Vorteil
Kenntnisse in Netzwerk-Design und -Konfiguration
Fähigkeit zur Selbstorganisation und ausgeprägte Kunden- und Serviceorientierung
Diese und weitere Benefits erwarten dich:
Jetzt online bewerben
Fast-Track-Bewerbung
IT mit Leidenschaft.
Otto Group Solution Provider (OSP) ist als IT-Spezialist für Retail und Logistik für Kunden innerhalb und außerhalb der Otto Group aktiv. Mit über 250 Mitarbeitern an mehreren deutschen und internationalen Standorten entwickelt OSP seit 1991 flexible Software- und BI-Lösungen. Neben dem Omnichannel-System MOVEX bietet OSP umfangreiche IT-Services wie Software-Entwicklung und -Architektur, Business Intelligence und Consulting für den E- und M-Commerce.
Alle Mitarbeiterinnen und Mitarbeiter in jeder der 123 Einzelgesellschaften der Otto Group tragen täglich mit innovativen Ideen dazu bei, uns unserem gemeinsamen Ziel näher zu bringen: In allen Bereichen best in class zu werden.
Dein Kontakt zu uns
Tanja Gert
Otto Group Solution Provider (OSP) GmbH
Freiberger Str. 35 | 01067 Dresden
T +49 351 49723-373 | jobs@osp.de

Brief profile of Otto Group Solution Provider (OSP) GmbH
OSP (Otto Group Solution Provider) ist ein IT-Dienstleister für Retail und Logistik. Wir bieten maßgeschneiderte Software-, Fulfilment- und BI-Lösungen. Neben einem umfangreichen Angebot individueller IT-Services wie Software-Entwicklung und Consulting prägt die Marke MOVEX das Portfolio. Mit dem Software-System MOVEX stellen wir flexible Backend-Lösungen für den Omnichannel-Handel bereit: vom E- und M-Commerce bis zur Logistik, vom Auftrags- und Lagermanagement bis zum Versand.
Wir bieten sowohl talentierten Nachwuchskräften als auch qualifizierten Experten vielfältige individuelle Entwicklungsmöglichkeiten in einem attraktiven, wachsenden Unternehmen. Wir unterstützen familienfreundliche, flexible Arbeitszeitmodelle und bieten vielfältige Benefits wie beispielsweise Angebote für Betriebssport und Gesundheitsförderung.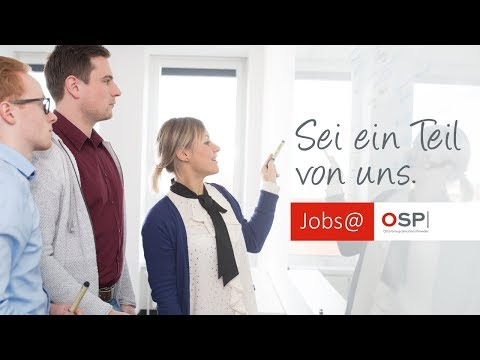 Publication date: 20-06-2019