Senior Consultant (m/w/d) Prozessmanagement in Dresden
Dresden

Please apply here on "ITsax.de" with the "Apply Now" link/button at the top right.

Materna schafft mit der elektronischen Akte die Arbeitsgrundlage für über 60.000 Nutzer aus über 500 Organisationen in der Landesverwaltung NRW. Als Senior Consultant (m/w/d) Prozessmanagement bei Materna:
begleiten Sie die Landesverwaltung NRW gemeinsam mit unseren Kollegen bei der digitalen Transformation der Prozesse in der öffentlichen Verwaltung.
analysieren, konzipieren und optimieren Sie Geschäftsprozesse in der öffentlichen Verwaltung und beraten Behörden bei der Aufbau- und Ablauforganisation.
entwickeln Sie Grundlagen für ein strategisch orientiertes Prozessmanagement weiter (z. B. Governance Steuerung).
definieren Sie Ziele und Kennzahlen zum Bewerten der Prozessqualität und identifizieren Abweichungen.
überprüfen Sie, ob Prozessziele erfolgreich erreicht und gewünschte Arbeitsergebnisse erzielt wurden, und dokumentieren die Prozesse.
Das bringen Sie mit:
Ein abgeschlossenes Studium der (Wirtschafts-)Informatik, Wirtschafts- / Verwaltungs- / Rechtswissenschaften o. Ä. oder alternativ eine entsprechende Ausbildung mit Berufserfahrung
Erfahrung in der Analyse und Optimierung von Geschäftsprozessen
Idealerweise Kenntnisse in aktuellen Technologien z. B. Java, C#, .NET, JavaScript, HTML
Kenntnisse der öffentlichen Verwaltungsabläufe wünschenswert
Sehr gute Deutsch- und gute Englischkenntnisse in Wort und Schrift
Reisebereitschaft innerhalb von NRW
Sie sind neugierig geworden? Dann lesen Sie hier, was uns als Arbeitgeber ausmacht und hier, warum unsere Kollegen Materna schätzen.
Brief profile of Materna Information & Communications SE
Wir digitalisieren Ihre Welt!
Als international erfolgreicher IT-Full-Service-Dienstleister im Premiumsegment beraten und begleiten wir unsere Kunden aus der Privatwirtschaft sowie dem öffentlichen Sektor seit fast 40 Jahren in allen Belangen der Digitalisierung und liefern maßgeschneiderte Technologien für eine agile, flexible und sichere IT.
Neben unserem Hauptstandort in Dortmund oder unseren internationalen Standorten, finden unsere Kunden uns auch in Dresden oder Berlin.
Wir suchen auch abseits festgelegter Pfade neue Kollegen.
Senden Sie uns einfach Ihre Initiativbewerbung.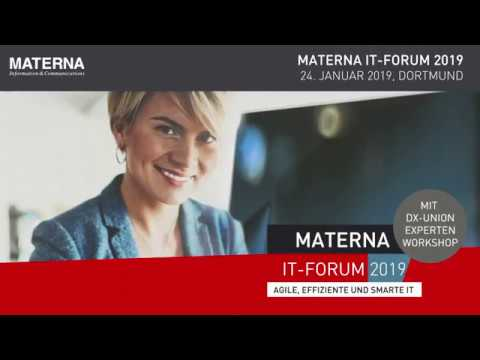 Publication date: 26-05-2020