Senior Software Architect (m/w/d) Java in Dresden
Dresden

Please apply here on "ITsax.de" with the "Apply Now" link/button at the top right.

Unser Software Architect (m/w/d) Java trägt die Verantwortung für die Konzeption und Implementierung von anspruchsvollen JEE Lösungen.
Als Software Architect bei Materna:
betreuen Sie die Projekte über den gesamten Projektlebenszyklus von der Presales-Phase bis zum späteren Betrieb.
entwerfen Sie Anwendungsarchitekturen und konzipieren komplexe Anwendungen.
setzen Sie moderne Methoden und Techniken ein und integrieren Ihre Ergebnisse in die Unternehmenslandschaften unserer Kunden und tragen zur Entstehung zukunftsfähiger Plattformen bei, auf denen unternehmenskritische Geschäftsprozesse sicher und stabil umgesetzt werden.
begleiten Sie die Software-Entwicklung in der Rolle eines Lead Developers.
stellen Sie die gewünschte Ergebnisqualität durch Qualitäts- und Testmanagement sicher.
Das bringen Sie mit:
Mehrjährige Berufserfahrung im Entwurf von Software- und IT-Architekturen im Umfeld Java, Java EE, SOA
Software-Entwicklung als Lead Developer im Java- / Java EE-Umfeld
Gute Kenntnisse und Erfahrungen in der Entwicklung komplexer Lösungen auf Basis von Java (Java EE, Spring, Hibernate, JSF, Struts, XML, JDBC)
Exzellente Kenntnisse in einer der folgenden Toolsuiten: IBM WebSphere und Oracle WebLogic
Erfahrung im Umgang mit Architekturstandards und Best Practices, wie z. B. Design Patterns
Sehr gute Deutsch- und Englischkenntnisse in Wort und Schrift.
Reisebereitschaft
Sie sind neugierig geworden? Dann lesen Sie hier, was uns als Arbeitgeber ausmacht und hier, warum unsere Kollegen Materna schätzen.
Brief profile of Materna Information & Communications SE
Wir digitalisieren Ihre Welt!
Als international erfolgreicher IT-Full-Service-Dienstleister im Premiumsegment beraten und begleiten wir unsere Kunden aus der Privatwirtschaft sowie dem öffentlichen Sektor seit fast 40 Jahren in allen Belangen der Digitalisierung und liefern maßgeschneiderte Technologien für eine agile, flexible und sichere IT.
Neben unserem Hauptstandort in Dortmund oder unseren internationalen Standorten, finden unsere Kunden uns auch in Dresden oder Berlin.
Wir suchen auch abseits festgelegter Pfade neue Kollegen.
Senden Sie uns einfach Ihre Initiativbewerbung.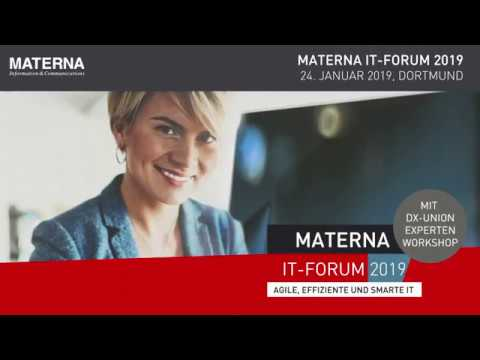 Publication date: 07-07-2020