Software-Entwickler C++(m/w/x) in Chemnitz
Chemnitz

Please apply here on "ITsax.de" with the "Apply Now" link/button at the top right.

Zur Verstärkung unserer Softwareabteilung suchen wir einen:
Software-Entwickler C++ (m/w/x)
In dieser Position hast du folgende
Aufgaben:
Du entwickelst in der Programmiersprache C++ unter Verwendung von Microsoft Visual Studio.
Du arbeitest mit Quellcodeverwaltungssystemen wie Team Foundation Server oder Git.
Du implementierst Hardwarekomponenten wie Laser, Messtechnik, Kameras, etc. in unsere Software.
Du entwickelst und erweiterst Anwendungen für Prozessabläufe.
Du setzt Anforderungsspezifikationen um und implementierst neue Features sowie Bugfixes.
Du arbeitest eng mit den Produkt- / Projekt-Managern und Prozessentwicklern zusammen.
Dein Profil:
Du hast ein Informatikstudium oder eine vergleichbare Hochschulausbildung abgeschlossen oder bringst vergleichbar passende Qualifikationen mit.
Du verfügst über praktische Erfahrung in der Softwareentwicklung in C++ sowie den entsprechenden Frameworks.
Deine Englischkenntnisse sind gut in Wort und Schrift.
Du arbeitest eigenverantwortlich, bist engagiert und zuverlässig.
Wir bieten:
Flexibles und mobiles Arbeiten: in Gleitzeit und verschiedensten Arbeitszeitmodellen
28 Tage Urlaub + K.O.-Tage-Regelung im Krankheitsfall
Vielseitige Weiterbildungsangebote: Besuche von Weiterbildungen, Fachseminaren und Schulungen sowie die Möglichkeit einer hausinternen Fach- oder Führungslaufbahn
Zusätzliche Sozialleistungen: betriebliche Altersvorsorge, Fahrtkosten- und Kindergartenzuschüsse
Moderne Arbeitsumgebung: in neuen und modernisierten Firmengebäuden – z. T. barrierefrei
Förderung der Gesundheit: verschiedene Sportgruppen, hauseigenes Beachvolleyballfeld, Jobrad, kostenfreie Getränke, Betriebsarzt
Angenehmes Arbeitsklima: Kurze Entscheidungswege, familiäre Atmosphäre, Weihnachtsfeier, Teamevents, kostenfreie Getränke
Kostenfreie Parkplätze und gute Verkehrsanbindung
Erfolgsbeteiligung
Du hast Fragen zum Job? Dann freuen wir uns über Deinen Anruf unter 0371-40043-908 bei Josefine Fiedler, Personalreferentin.
Interessiert? Dann sende uns Deine aussagekräftige Bewerbung unter Angabe der Kennziffer PA-23-19 und Deiner Verfügbarkeit – gerne per E-Mail*.

* Wir weisen darauf hin, dass eine Datenübertragung per E-Mail unsicher und daher vor allem für allgemeine Anfragen geeignet ist. Es kann nicht ausgeschlossen werden, dass auf diesem Wege übermittelte Daten von Unbefugten gelesen, kopiert, verändert oder gelöscht werden.
PDF Download
Brief profile of 3D-Micromac AG
Die 3D-Micromac AG ist der führende Spezialist für Lasermikrobearbeitung.
Wir entwickeln Verfahren, Maschinen und komplette Anlagen auf höchstem technischen und technologischen Niveau. Unser Anspruch ist es, die Wünsche unserer Kunden auch bei komplexen Projekten perfekt zu erfüllen.
3D-Micromac steht für leistungsfähige, anwenderfreundliche und zukunftsorientierte Prozesse mit größter Produktionseffizienz. Durch unsere Technologien werden Innovationen verfügbar – und das weltweit.
Wir haben stets die neuesten Forschungsergebnisse im Blick, und verknüpfen sie in unserer täglichen Arbeit mit den Anforderungen unserer Kunden aus der Praxis.
Innovative Unternehmen brauchen innovative Mitarbeiter – Wir vergeben an ambitionierte Persönlichkeiten ständig interessante Jobs, Praktika und Diplomarbeiten in allen Unternehmensbereichen.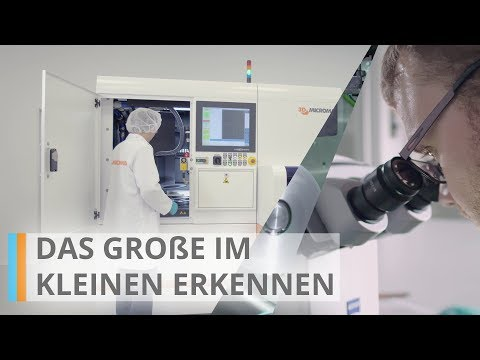 Publication date: 10-01-2020