Professional
Dresden (Hybrid)
Software Developer C# (m/w/d) im Bereich Equipment Integration in Dresden
Dresden

Please apply here on "ITsax.de" with the "Apply Now" link/button at the top right.

Die mit den Megatrends Industrie 4.0 und IoT in den Maschinen- und Anlagenbau einziehende Digitalisierung stellt Unternehmen vor neue Herausforderungen im Umgang mit modernen Anlagensteuerungen, vernetzten Daten, Cloud-basierten Softwareplattformen und standardisierten Schnittstellen. Gemeinsam mit Dir stehen wir als Team mit unserer Erfahrung für eine smarte Fertigung in einer digitalen Zukunft.
DEINE AUFGABEN
Du setzt in enger Zusammenarbeit mit unseren Kunden aus der Halbleiterindustrie, Automobilzulieferbranche, Pharmaindustrie sowie dem Anlagenbau und unter Nutzung aktueller Softwaretechnologien die Visionen von Industrie 4.0 und IoT in Lösungen um
In dieser wichtigen Rolle begleitest Du vor allem den kompletten Entwicklungszyklus vom Design, Spezifikation, über Implementierung und Test bis zur Inbetriebnahme bei unseren Kunden
Bei der Umsetzung der Aufgaben wendest Du Dein fundiertes Wissen im Bereich C# und entsprechendes Know-How im Umgang mit .NET Technologien an
Dabei unterstützt Du die Einführung von fertigungsnahen Softwarelösungen zur Steuerung, Vernetzung und Datenerfassung im modernen Industrieumfeld
WAS DICH ERWARTET
Flache Hierarchien, kurze Kommunikationswege & ein offenes Umfeld sind uns wichtig für ein reibungsloses Miteinander
Für die Entwicklung jedes einzelnen in unserem Team bieten wir ein umfangreiches Weiterbildungsangebot (fachlich & persönlich)
Eine gelebte Work-Life-Balance-Kultur ist uns sehr wichtig um allen Mitarbeitern die ideale Vereinbarung von Familie und Beruf zu ermöglichen
Sport-/Teamevents stärken den Zusammenhalt im Team
Bei wöchentlichen Massageterminen kannst Du kurz abschalten und neue Energie tanken
Dich erwartet eine unbefristete Festanstellung & 30 Tage Urlaub
DAS BRINGST DU MIT
Du verfügst bereits über Kenntnisse in C# und .NET
Idealerweise runden Erfahrungen im Umgang mit Visual Studio/ TeamFoundation Server, Relationalen Datenbanken, Objektorientierte Analyse- und Designmethoden, Kenntnisse in SECS Standards (SEMI), SQL, TwinCAT ADS, Siemens S7 dein Profil ab
Du übernimmst Verantwortung für Deine Projekte und entwickelst zielstrebig individuelle Lösungen
Kommunikation sowie ein vertrauensvolles und überzeugendes Auftreten gehören zu Deinen Stärken
Du überzeugst durch eine hohe Eigenmotivation, Engagement, Flexibilität und Teamgeist
Gute Englischkenntnisse in Wort und Schrift zeichnen dich aus
This Job resp. positions as 'Software Developer C# (m/w/d) im Bereich Equipment Integration' is vacant in following addresses: 01237 Dresden in Sachsen.
Brief profile of Kontron AIS GmbH
WIR | Täglich arbeiten in unseren 2 Firmengebäuden 160 Kollegen zusammen.
BRANCHENKENNER | Seit 30 Jahren sammeln wir Knowhow in über 50 Branchen und bieten damit flexible SOFTWARE - LÖSUNGEN an und sind damit in vielfältigen High-Tech-Branchen unterwegs, wie z.B. Halbleiterindustrie, Vakuumtechnik & Beschichtung, Photovoltaik & Solartechnik, im Bereich Food, Chemie & Pharma sowie Automotive.
HAND IN HAND | Mit innovativen Forschungsprojekten entstehen bei der AIS jährlich mind. 3 Diplomarbeiten.
VERNETZT | Um ständig in Kontakt mit Partnern und Kunden zu bleiben, sind wir Mitglied in 11 Netzwerken.
ZUKUNFT GEMEINSAM ENTWICKELN - DEIN EINSTIEG | Werde Teil eines motivierten und leistungsstarken Teams mit verschiedenen Entwicklungs- und Karrieremöglichkeiten sowie Aufgaben und Projekten, die deinen Ideenreichtum und deine Kreativität fordern. Wir unterstützen dich dabei mit einem einjährigen Einarbeitungsplan, internen und externen Weiterbildungsmöglichkeiten, jährlichen Mitarbeitergesprächen sowie einem individuellem Fachkarriereplan.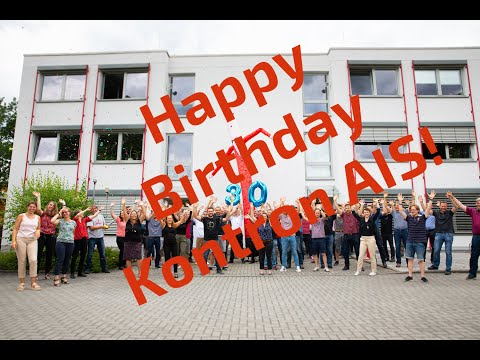 Spheres of competence
IaaSMachine LearningITfrontendSaaSstudiesMobile.NETJavaembeddedtraineeIndustry 4.0IoTdatabasebusiness intelligenceJavaScript
Job
Traineeships and apprenticeships
Further education • Dresden (Hybrid)
25-01-2022
Internship • Dresden (Hybrid)
02-05-2022
Internship • Dresden
11-05-2022
Publication date: 13-07-2022