Professional
Dresden (Hybrid)
DevOps Engineer (f/m/d) in Dresden
Dresden

Please apply here on "ITsax.de" with the "Apply Now" link/button at the top right.

DevOps Engineer (f/m/d)
Teilzeit / Vollzeit Sofia, Dresden, Berlin, Vienna, Essen, Warsaw or remote from now on
DRESDEN | BERLIN | ESSEN | VIENNA | SOFIA | REMOTE
THIS IS WHAT AWAITS YOU WITH US...
… As our DevOps Engineer (f/m/d) you will work remotely/ homeoffice or in one of our beautiful offices in Sofia, Berlin, Dresden and Vienna with flexible mobile-working arrangements. Together with your colleague Michael in Dresden, you will form a strong team of highly independent IT DevOps Engineers. Your baby? Our AWS cloud infrastructure! You will design, build and migrate software, applications and services to the AWS platform and make sure everything works perfectly.
YOUR MISSION WITH US:\
Maintenance & further development of our AWS cloud infrastructure:
Ensuring high availability of our applications such as APIs and websites by using traffic load balancing, compute auto-scaling or DB clusters.
Using modern technologies to reliably build and deploy infrastructure as code (in containers or on virtual machines via Terraform & Ansible).
Minimizing security risks by developing and maintaining firewall and automated backup systems (Virtual Private Cloud and VPN).
Utilizing dynamic scaling and capacity planning to minimize costs.
Monitoring and troubleshooting our cloud infrastructure:
Defining and collecting relevant metrics and logs to ensure availability and stability of our services (DataDog, Graylog).
Analyze failures, system errors, and other anomalies in production systems (e.g. slow database queries, API failures, ineffective caching, etc).
Identify and resolve potential bottlenecks in our tech stack.
Provide support to our development teams:
Set up and maintain CI/CD pipelines (GitLab).
Evaluating and testing new technologies before going live.
Joining project teams to implement infrastructure-heavy features.
THIS IS WHAT YOU BRING ALONG:
Bachelor's Degree in Computer Science or a similar education.
Experience working with Linux and network & Internet basics (TCP/IP, HTTP, DNS).
Scripting languages like Python or Bash as well as SQL (MySQL) are things you are familiar with.
Nice to have: Cloud Computing knowledge, working experience as a System Engineer, basic knowledge of one of our most used programming languages (PHP, Java, Ruby).
Any tech problems? With your analytical skills you love to solve almost every problem in a proactive way.
You are able to work independently but teamwork is not a foreign word for you.
For the communication in our international team, you have C1-level English skills, German would be a strong plus.
BENEFITS & PERKS.
#diversity&inclusion - be YOURSELF and get involved in our #nondiscrimination corporate culture with flat hierarchies, openness and a lot of genuinely nice and decent people.
#lean - lean, agile and highly dynamic working environment with various activities and plenty of room for creativity and co-designing our common path.
#personalgrowth - we support you to develop your own personal Offerista Development Plan, workshops, trainings and regular feedback.
#officegoals - work in modern, playful and centrally located offices, ergonomically equipped and with daily fresh fruits, vegetables & yogurt as well as a tea and coffee flatrate with your favorite milk (vegan-friendly).
#stateoftheart - laptop, keyboard, screen? Here you get the latest technical equipment.
#100%flexible - flexible working time models, trust-based working time, mobile working arrangements as well as the possibility of a sabbatical.
#teamfuckingawesome - experience legendary team events and celebrations with us, such as our annual summer party or our Christmas event (Covid friendly).
#familyfirst - bring your child and dog to the office and let us support you with an allowance for your childcare.
#corporatebenefits - receive exclusive discounts with various providers.
#sustainability - we are climate neutral! But there's still more to do! Get involved as an #orangeofficer to make Offerista even more sustainable.
BECOME PART OF OUR TEAM AND SHAPE WITH US.
We are visionaries, betterers and thinkers. With dedication we design the digital shopping world of tomorrow. Already known as the market leader in digital retail marketing in Europe, our state-of-the-art products provide international digital coverage and store visits to retailers. The achievements fill us with pride, the future spurs us on. We are Offerista - and we are looking for bright minds that will make us even better.
CONTACT.
Offerista Group GmbH
Aneliya Nikolova
Waldemarstrasse 33a | 10999 Berlin
+359884045756
E‑Mail: 
This Job resp. positions as 'DevOps Engineer (f/m/d)' is vacant in following addresses: 01067 Dresden in Sachsen.
Brief profile of Offerista Group GmbH
Wir sind Visionär:innen, Bessermacher:innen und Weiterdenker:innen. Voller Hingabe gestalten wir die digitale Einkaufswelt von Morgen. Im Raum DACH bereits als Marktführer im digitalen Filialmarketing bekannt, verschaffen unsere hochmodernen Produkte dem Einzelhandel internationale digitale Reichweite und Ladenbesuche. Das Erreichte erfüllt uns mit Stolz, das Künftige spornt uns an. Wir sind Offerista – und wir sind auf der Suche nach hellen Köpfen, die uns noch besser machen.
Werde jetzt Teil unseres großartigen Teams!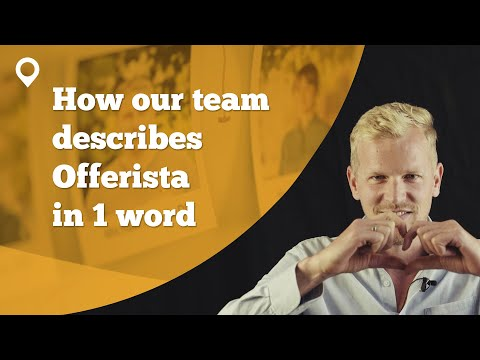 Spheres of competence
graphicdesigndatabasesecurityJavaPHPapprenticeshipMobilestudiesservice managementsotware testprojectmanagementSoftware-Designsoftwaredevelopmentsoftware administrationJavaScriptCMS
Job
Professional • Dresden (Hybrid)
5 days ago
Professional • Dresden (Hybrid)
5 days ago
Publication date: 01-02-2023