Dresden
SAP Preferred Supplier - Value Engineer (f/m/d) in Dresden
Dresden

Please apply here on "ITsax.de" with the "Apply Now" link/button at the top right.

SAP Preferred Supplier - Value Engineer (f/m/d)
Empowering you – to break new ground!  
Digital transformation helps companies reach their full potential – if the underlying technologies work for the people using them! At NTT DATA Business Solutions, we design, implement, manage and continuously enhance SAP solutions to make them work for companies – and for their people.
Does that sound like a challenge that suits you? Then we would love to get in touch! Whatever your current core competencies are: We will empower you with everything you need in order to help companies in more than 30 countries to become more efficient and effective.
At the same time, you can always rely on a culture of mutual respect and strong solidarity.
Are you ready to break new ground?
That is what makes us special:
■
Team-oriented culture
, collaboration as equals and steady knowledge transfer, characterized by flat hierarchies
■ Individually tailored training including a mentoring program
■ Sustainable career development in a growth-oriented technology environment with a business focus
Do you love challenges?
You work as part of the Global group (NTT) wide SAP Account Team which operates in a matrix structure across all NTT group companies i.e. NTT DATA  Services, NTT DATA Business Solutions, Everis etc. providing services to SAP. The SAP Account Team develops, contracts and governs profitable service delivery with SAP across four areas: Application Consulting, Application Development, IT Infrastructure and Application Maintenance. You – as the Value Engineer Manager - report to the Head of Client Engagement Management - Global Accounts - which is part of NTT DATA Business Solutions Global Field Consulting and will have a dotted line reporting to the Global Account Manager for SAP.
Your main tasks include:
■ Work with the Global Account Manager to establish an account development plan to win new businesses from SAP and achieve a continuous revenue stream
■ Engage with key contacts in SAP at Head Quarters (Waldorf) and coordinate across Countries and Regions via the NTT Operation Engagement Coordinators for SAP business
■ Identify and drive opportunities to the NTT SAP Deal Desk team
■ Build and orchestrate relationships with key stakeholders both internally and externally and with key contacts at SAP
■ Build and update account plans, manage end to end sales cycles and qualify requirements and scope
■ Identify potential service opportunities - all four service offerings as above -  with primary focus on Application Consulting
■ Bring together Solution Architects / Programme Managers and other appropriate skills in the pre-sales cycle
■ Work closely with other VE managers and deal desk team to manage and deliver successful bids
■ Support Global Account Manager in commercial construct and contractual arrangements
■ Manage communications across all stakeholders involved in future staffing and delivery
Convince us with your potential!
■  Good understanding of SAP Solution portfolio, ideally with a hands on planning, solutioning and delivery background
■  Sales & Account experience, or other customer facing management experience 5 + years
■  Ability to communicate with all levels of management and employees and to motivate people
■  Bachelor's degree in business administration, computer science, information systems or related field, or equivalent experience
■  Experience of working in SAP eco system & Business Development Experience
■  Excellent communication and organizational skills
■  Ability to work independently, to show judgment and initiative and to deal with stress and pressure
■  Strong sense on risk evaluation and mitigation and strong analytical thinking
■  Ability to influence internal and external key stakeholders and build consensus
■  Willingness to travel for 30+%
■  Fluent in English & German -orally and in writing - other languages are a benefit
Do you have questions?
We are looking forward to receiving your complete application documents (cover letter and CV) stating the earliest date you could start.
Get empowered by NTT DATA Business Solutions!
Tobias Tebbe
E-Mail: careers-solutions-de@nttdata.com
We transform. SAP® solutions into Value
Preferred, Supplier, Value, Engineer, (f/m/d), Englisch,
Data-Mining
,
Test-Management
, Service-Manager, ITsax.de, Empfehlungsbund
This Job resp. positions as 'SAP Preferred Supplier - Value Engineer (f/m/d)' is vacant in following addresses: 01237 Dresden in Sachsen.
Brief profile of NTT Data Business Solutions Global Managed Services GmbH
Empowering you – to break new ground!
Wir wollen mit Weitblick und Innovationskraft die Zukunft gestalten. Sei dabei und entfalte Dein volles Potential!
Als Teil der globalen NTT DATA Gruppe, einem der erfolgreichsten IT-Dienstleister der Welt, sind wir als NTT DATA Business Solutions auf wertschöpfende SAP-Lösungen spezialisiert. Mit über 11.500 Mitarbeitenden in über 33 Ländern designen, implementieren und entwickeln wir passgenaue SAP-Lösungen und Managed Cloud Services für unsere weltweiten Kunden.
Als Full-Service Provider bieten wir unseren Kund*innen ein umfangreiches Portfolio in den Bereichen  SAP Consulting, SAP Development, Managed Cloud Services sowie Application Management Services (AMS) & Technology und unterstützen diese weltweit bei der digitalen Transformation.
Seit der Gründung im Jahr 1989 sind wir rapide gewachsen und bereits seit 2008 gehören wir zum Konzernverbund der NTT DATA. Um am Markt auch als "one NTT" aufzutreten, wurde zum 1.4.2021 auch unser Firmenname von itelligence Global Managed Services GmbH in NTT DATA Business Solutions Global Managed Services GmbH umbenannt. Ansonsten bleibt alles wie gehabt – sowohl organisatorisch, personell als auch inhaltlich.
Möchtest Du den nächsten Karriereschritt machen und Teil unseres hochqualifizierten Teams sein?
Are you ready to break new ground?
Wir freuen uns auf Dich!
Innovativen Menschen bieten wir die Möglichkeit, ihr Potenzial bestmöglich einzusetzen und sich dabei weiterzuentwickeln. Dafür gibt es spannende Einstiegsmöglichkeiten im SAP Consulting, SAP Development, Managed Cloud Services und Application Management Services (AMS) & Technology.
Uns interessieren Menschen (f/m/d), die Neugier und eine schnelle Auffassungsgabe mit einer hohen Lernbereitschaft verbinden. Zukünftige Kolleg:innen sollten ein Faible für die Verknüpfung von Prozesswissen und technischem Know-how mitbringen sowie Spaß am Umgang mit Menschen und unterschiedlichen Persönlichkeiten haben.
Neugierig geworden? – Dann schau Dich gerne auf unserer Homepage genauer um oder suche auf direktem Wege nach Jobs unter:  https://nttdata-solutions.com/de/karriere/
In unserer Stellenbörse war keine passende Ausschreibung für Dich dabei? Macht nichts! Bewirb Dich gerne initiativ bei uns. Schicke uns deine Bewerbungsunterlagen und wir prüfen eine passende Einsatzmöglichkeit.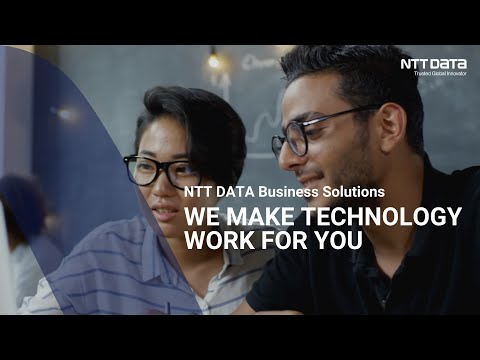 Publication date: 28-12-2021