Bautzen, Dresden, and Radebeul
Program Manager MS Automation
Bautzen, Dresden, and Radebeul

Please apply here on "ITsax.de" with the "Apply Now" link/button at the top right.

Program Manager Managed Services Automation (f/m/d)
Empowering you – to break new ground!
We want to shape the future with vision and innovation. Be part of it and develop your full potential!
As part of the global NTT DATA Group, one of the most successful IT service providers in the world, we specialize in value-added SAP solutions as NTT DATA Business Solutions. With over 10,000 employees in more than 30 countries, we design, implement and develop custom-fit SAP solutions for our global customers.
As a Program Manager Managed Services (MS) Automation in the Global Managed Services business unit, you can expect a global team of over 1,500 colleagues who share your passion for SAP.
Would you like to take the next step in your career and be part of our highly qualified team? Then, as part of the GMS Operations Management Team, support our global business units in planning and implementing the next level of digitization and automation into our Managed Services.
Are you ready to break new ground?
location: Germany, Malaysia
That is what makes us special:
■
Team-oriented corporate culture
,
collaboration as equals
and
steady knowledge transfer
■ Active participation in shaping your future
■ Individually tailored onboarding program including a mentoring program
■ Sustainable career support with our career model and individual development programs
■ International development opportunities and networks
■ Inhouse Academy with a variety of professional technical training, soft skills training, SAP Learning Hub and certification opportunities
■ 25% employer contribution to the company pension scheme as well as other attractive pension offers (e.g. lifetime working account)
Do you love challenges?
As a prerequisite for highly competitive and future proof Managed Services, Automation and increasing digitization are a permanent priority requiring ongoing and continues efforts. As Program Manager Managed Services (MS) Automation, you will be responsible for overseeing, driving and orchestrating all global MS Automation activities including:
■ Evolution of the global MS automation strategy for both Application Management Services as well as Cloud Infrastructure Services
■ Development and maintenance of standards for automation development including technologies, rules and processes.
■ Evaluation and management of all global automation demands including business case assessment and initiation of projects
■ Cross-Busines Unit and cross–country coordination of activities from the definition of requirements to the global rollout of tools and process changes
■ Definition and monitoring target KPIs for automation/efficiency improvements
■ Stakeholder Management and Progress Reporting to global Managed Services leadership team
Convince us with your potential
■ University degree - preferably in the field of IT -
or a comparable qualification
■ Many years of professional experience in enterprise project and/or program management preferably in the field of Automation and Digitization of IT service management processes in an international environment
■ Many years of management experience as well as in organizational change management  
■ Good understanding of Managed Services and Service Delivery practice
■ Strategic mindset as well as entrepreneurial and process-oriented thinking and acting
■ Ability to work with autonomy and to organize and work with multi-profiles teams
■ Strong communication skills, a high level of service and customer orientation and excellent presentation and argumentation skills
■ Willingness to travel (national and international) for 10%
■ Fluent Business English skills
Do you have questions?
We are looking forward to receiving your complete application documents (cover letter, CV and references) stating the earliest date you could start.
Get empowered by NTT DATA Business Solutions!
Josephine Krüger 
Tel.: +49 3591 2952 2546
E-Mail: gms-careers-solutions-de@nttdata.com
We believe that diversity is essential for a strong innovative company like NTT DATA Business Solutions, so we like to attract as many different people as possible.
We transform. SAP® solutions into Value
Program, Manager, Automation, Englisch, Data-Mining, IT-Administration, Service-Manager, Service-Management, ITsax.de, Empfehlungsbund
This Job resp. positions as 'Program Manager MS Automation' is vacant in following addresses: 02625 Bautzen bei/in Dresden in Sachsen, 01237 Dresden in Sachsen, and 01445 Radebeul bei/in Meißen in Sachsen.
Brief profile of NTT Data Business Solutions Global Managed Services GmbH
Empowering you – to break new ground!
Wir wollen mit Weitblick und Innovationskraft die Zukunft gestalten. Sei dabei und entfalte Dein volles Potential!
Als Teil der globalen NTT DATA Gruppe, einem der erfolgreichsten IT-Dienstleister der Welt, sind wir als NTT DATA Business Solutions auf wertschöpfende SAP-Lösungen spezialisiert. Mit über 11.500 Mitarbeitenden in über 33 Ländern designen, implementieren und entwickeln wir passgenaue SAP-Lösungen und Managed Cloud Services für unsere weltweiten Kunden.
Als Full-Service Provider bieten wir unseren Kund*innen ein umfangreiches Portfolio in den Bereichen  SAP Consulting, SAP Development, Managed Cloud Services sowie Application Management Services (AMS) & Technology und unterstützen diese weltweit bei der digitalen Transformation.
Seit der Gründung im Jahr 1989 sind wir rapide gewachsen und bereits seit 2008 gehören wir zum Konzernverbund der NTT DATA. Um am Markt auch als "one NTT" aufzutreten, wurde zum 1.4.2021 auch unser Firmenname von itelligence Global Managed Services GmbH in NTT DATA Business Solutions Global Managed Services GmbH umbenannt. Ansonsten bleibt alles wie gehabt – sowohl organisatorisch, personell als auch inhaltlich.
Möchtest Du den nächsten Karriereschritt machen und Teil unseres hochqualifizierten Teams sein?
Are you ready to break new ground?
Wir freuen uns auf Dich!
Innovativen Menschen bieten wir die Möglichkeit, ihr Potenzial bestmöglich einzusetzen und sich dabei weiterzuentwickeln. Dafür gibt es spannende Einstiegsmöglichkeiten im SAP Consulting, SAP Development, Managed Cloud Services und Application Management Services (AMS) & Technology.
Uns interessieren Menschen (f/m/d), die Neugier und eine schnelle Auffassungsgabe mit einer hohen Lernbereitschaft verbinden. Zukünftige Kolleg:innen sollten ein Faible für die Verknüpfung von Prozesswissen und technischem Know-how mitbringen sowie Spaß am Umgang mit Menschen und unterschiedlichen Persönlichkeiten haben.
Neugierig geworden? – Dann schau Dich gerne auf unserer Homepage genauer um oder suche auf direktem Wege nach Jobs unter:  https://nttdata-solutions.com/de/karriere/
In unserer Stellenbörse war keine passende Ausschreibung für Dich dabei? Macht nichts! Bewirb Dich gerne initiativ bei uns. Schicke uns deine Bewerbungsunterlagen und wir prüfen eine passende Einsatzmöglichkeit.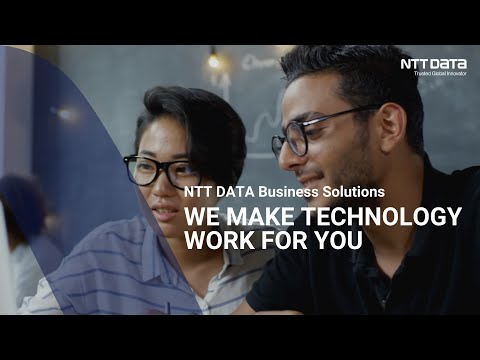 Publication date: 28-12-2021