Dresden (Hybrid)
(Senior) Linux Software Developer (m/f/d) in Dresden
Dresden

Please apply here on "ITsax.de" with the "Apply Now" link/button at the top right.

Job description
At Meshmerize, we build wireless mesh networks for industrial robots and UAVs. We enable systems with reliable and resilient networks based on relatively inexpensive WiFi hardware by combining bleeding-edge research with the practical needs of the Industry 4.0. Backed by some of the top-tier early-stage investors in Europe, we are on a journey to redefine the way moving robots communicate with each other.
We are looking for a Linux Software Developer to help us develop, integrate and maintain our Meshmerize Software. As Meshmerize is still a relatively young venture-backed startup, the potential and possibilities are endless and you will have the opportunity to have a tremendous impact on the growth and success of the startup.
What you'll be doing
Invent and implement new algorithms for various parts of the wireless mesh network
Identify new product improvements and make decisions for the product roadmap
Develop and maintain our Meshmerize Software (C/C++ language)
Integrate Meshmerize into Customer firmware, such as OpenWRT or Yocto Linux
Adapt wireless drivers of the Linux kernel to bring the best out of today's wireless hardware
Investigate and improve existing installation for best performance
Manage internal and customer facing projects
Job requirements
What best describes you
University diploma in Electrical Engineering, Computer Science or equivalent qualification

Proficient in C programming on embedded Linux systems and Python scripting

Passionate about programming and also have some personal hobby projects

Deep understanding of the Linux system and network design

Experience with embedded toolchains, ideally OpenWRT

Good command of written and spoken English

Previous experience with project management would be ideal

Preferably experience with Linux kernel programming and IEEE 802.11 standards
What we Offer
Join our fast growing, international team

Office in the heart of Dresden

Cutting edge technology challenges with innovative partners all over the world

Flexible working, help us shape the work environment of the future
Linux
, Software, Software-Entwicklung,
C/C++
,
Wireless
, Informatiker, Anwendungsentwickler, Softwareentwicklung,
Software Developer
,
C++
, ITsax.de, Empfehlungsbund
This Job resp. positions as '(Senior) Linux Software Developer (m/f/d)' is vacant in following addresses: 01219 Dresden in Sachsen.
Brief profile of Meshmerize GmbH
You move, we connect.
Wir sind ein Team von neugierigen Entwicklern, Forschern und Strategen, die es sich zur Aufgabe gemacht haben, die Art und Weise wie sich bewegende Dinge miteinander verbinden, grundlegend zu erneuern.
Wir sind Pioniere beim Aufbau drahtloser Mesh-Netzwerke. Wir bauen Kommunikationsnetzwerke auf, die es Industrierobotern, Pizzalieferdrohnen und autonomen Autos ermöglichen, sich direkt miteinander zu verbinden, ohne auf Basisstationen oder andere Infrastrukturen angewiesen zu sein. Wir arbeiten ständig mit verschiedenen mobilen Robotern zusammen, um zu lernen und Netzwerke aufzubauen, die für sie am besten geeignet sind.
Wir befinden uns an einem entscheidenden Punkt unserer Reise und suchen die Besten und Klügsten, um unser Team zu verstärken. Ddu kannst dich mit den Worten Leidenschaft, Zusammenarbeit, Pragmatismus und Skilifte identifizieren? Dann passt DU genau hierher.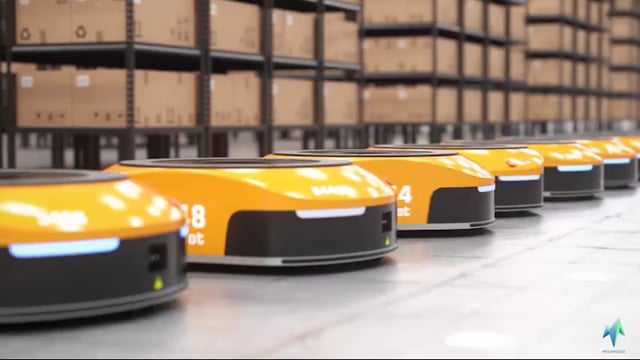 Spheres of competence
ITIndustry 4.0C++SaaSLinuxnetworkDevOpsPythondigitalisationembeddedIDEIoTSystems engineer
Job
Traineeships and apprenticeships
Publication date: 18-05-2022