Working Student
Dresden
Part-time
Flexible hours
Working Student | Graphic Design (m/f/d) in Dresden
Dresden

Please apply here on "ITsax.de" with the "Apply Now" link/button at the top right.

Meshmerize is on a journey to redefine the way moving robots communicate with each other, but what we can't do is to teach them how to design. That is why we need a Working Student Graphic Designer to improve the quality of our visual assets.
We build wireless mesh networks for industrial robots, UAVs, autonomous agricultural and construction machines. Meshmerize enables a multipath, reliable and resilient network based on affordable WiFi hardware aiming to satisfy the needs of Industry 4.0.
What you'll be doing
We are looking for a student proficient in graphic design tools, excited to learn new skills and interested in building experience while working in a dynamic startup.
The position and includes improving existing graphic images and creating new illustrations for sales and marketing purposes.
What best describes you
Student 

Solid knowledge of Adobe Photoshop and/or Illustrator

Video editing skills are not necessary, but a +

Keen eye for detail and consistency in following a given graphic standard

Independent and diligent work style as well as the ability to work in a team

The ability to communicate in a solution-oriented manner

Command of English

10-20 hours/ week to spare
What we offer
A fast growing, international team

Office in the heart of Dresden

Individual support for personal and professional development

Compatibility of studies and everyday life through flexible working hours

Space for any new ideas and creative solutions

State of the art work equipment
Designer
,
illustrator
,
Adobe
, Grafikdesign, Grafiker, grafik, working student,
Video Editing
, Marketing,
Graphic Design
, ITsax.de, Empfehlungsbund
This Internship resp. apprenticeship as 'Working Student | Graphic Design (m/f/d)' is vacant in following addresses: 01219 Dresden in Sachsen.
Brief profile of Meshmerize GmbH
You move, we connect.
Wir sind ein Team von neugierigen Entwicklern, Forschern und Strategen, die es sich zur Aufgabe gemacht haben, die Art und Weise wie sich bewegende Dinge miteinander verbinden, grundlegend zu erneuern.
Wir sind Pioniere beim Aufbau drahtloser Mesh-Netzwerke. Wir bauen Kommunikationsnetzwerke auf, die es Industrierobotern, Pizzalieferdrohnen und autonomen Autos ermöglichen, sich direkt miteinander zu verbinden, ohne auf Basisstationen oder andere Infrastrukturen angewiesen zu sein. Wir arbeiten ständig mit verschiedenen mobilen Robotern zusammen, um zu lernen und Netzwerke aufzubauen, die für sie am besten geeignet sind.
Wir befinden uns an einem entscheidenden Punkt unserer Reise und suchen die Besten und Klügsten, um unser Team zu verstärken. Ddu kannst dich mit den Worten Leidenschaft, Zusammenarbeit, Pragmatismus und Skilifte identifizieren? Dann passt DU genau hierher.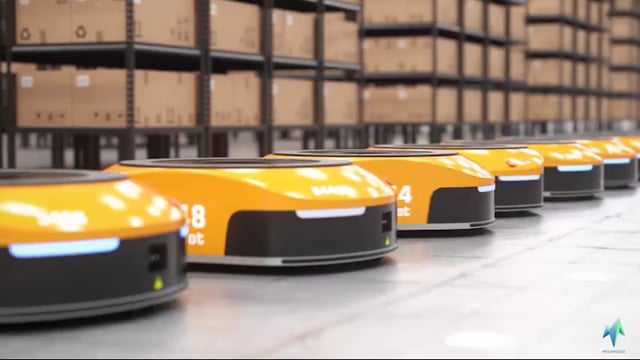 Spheres of competence
sotware testSoftware-DesignprojectmanagementsoftwaredevelopmentITIndustry 4.0C++SaaSLinuxnetworkDevOpsPythondigitalisationembeddedIDEIoTSystems engineer
Traineeships and apprenticeships
Working Student • Dresden • Part-time • Flexible hours
7 days ago
Publication date: 24-11-2022